Contact Info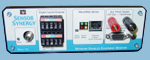 Electric Power and Utility Use Monitor

Sensor Synergy technology at use in electrical applications

Electricity Use

Measuring the electric current used by a motor can be indicative of equipment health.


Changes in the electric current consumed by an electric motor can indicate the onset of an accelerated degradation mechanism. Monitoring and tracking these changes along with total run-time (or total on-time) can also be useful in scheduling motor maintenance and/or replacement.

Other electric motor features that have been monitored with Sensor Synergy's NEEM units include case temperature, mechanical vibration, mechanical strain in motor mounts, and acoustic (sound) levels.

Depending on the specific application, one or all of these features can be used to better predict the potential for motor failure.

The key to all of these indicators is to be able to remotely acquire and store this data for subsequent analysis. This analysis can be straight-forward linear predictions based on linear trends or the post-acquisition data analysis can be more sophisticated, multi-variate analysis of these key indicator parameters.

Sensor Synergy's NEEM product line provides cost-effective, enabling hardware and software to acquire and store these types of sensor data. Some of the important benefits of Sensor Synergy's sensor data acquistion and storage solutions are the ease of use and quick setup. In addition, no personal computers (PCs) are needed near the sensors and there is no need for custom programming.