Contact Info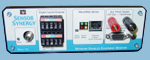 Wireless Connection of Conventional Analog Sensors to the Internet

Wireless Connectivity from the NEEM to the Internet using cellular data networks.
Connections to the Internet can be made using equipment supplied by cell phone providers and their partners.
Sensor Synergy can also provide complete solutions including the NEEM and Wireless radios connecting your sensor data directly to the Internet.



Sensor Synergy technology is used to wirelessly connect remote sensors to the Internet.

These sensors monitor the status and the state of health of remotely located equipment using "commercially-available off-the-shelf" sensors.

Users select the most optimum analog sensor for their application and use the NEEM to put this data directly on the Internet. In many ways, this is similar to transforming a conventional analog sensor it into a smart, network-connected sensor.

Our customers have used the NEEM technology for a wide variety of applications - particularly when it is inconvenient, impractical, or just not a good idea to locate a PC near the location where the data is being collected.