Contact Info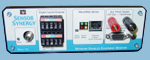 Customized, OEM solutions

Inexpensive, royalty-free technology integrated into your product

Sensor Synergy has developed an extensive modular technology base to connect analog and digital sensor signals to the Web. Our approach uses a "Web-Centric" model for connecting sensors to the Web without using an intermediate PC or PC equivalent. In addition to raw sensor data, our smart interface technology enhances the interpretation of the sensor signals by including electronic data sheets and web-log information along with tabular and graphical views of the sensor data.

Our technology is especially well suited for custom applications in which users would like to Web enable equipment by making either analog or digital signals available on the Internet. Often these signals are generated by sensors and reflect equipment status to allow remote stake holders to view the condition, use, or alarm-state of an asset.

In most cases, custom applications do not require the full suite of sensor signal interfaces available in our NEEM-112/NEEM-115 off-the-shelf product. By selecting only the required electrical and software interfaces required for a specific application, a custom board can be designed in an extremely cost effective manner.

All of the required Data Acquisition, Data Storage, and Web Server hardware and software elements are integrated into our base-level printed wiring board. This unit can be customized to fit into various types of equipment to enable remote, Internet-based monitoring.

The cost of this type of custom application is highly dependent on the specific requirements including:
1. The number of sensors used in the custom application
2. The scope of software customization requirements
3. The annual quantity of boards purchased

Past efforts have developed inexpensive board-only, complete solutions. Costs vary based on the annual quantity of boards purchased, the required feature set, and the scope of the initial engineering efforts. These prior designs have included all of the necessary analog to digital conversion hardware/software, data storage (memory) hardware/software, the microweb server hardware/software and the user interface software for a complete solution to Web-enabled access of remotely monitored equipment.