Contact Info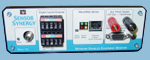 Applications

Applications of Sensor Synergy technology

This section highlights some applications of Sensor Synergy technology. The NEEM's flexible feature set enables a wide array of solutions to real-world problems. For some applications, our customers are able to describe their experiences with NEEM units.

NEEM unit acquiring sensor data while Sensor Synergy's (included) data logger is shown displaying this data.

The NEEM unit enables remote monitoring of appliances and equipment with a relatively simple setup, no programming, and a straight forward hardware interface. Universally available Internet web browser programs, found on all modern PCs, can be used to remotely monitor sensor data.

Conventional analog sensors can be Internet enabled for remote monitoring with minimal effort. The NEEM units enhances the response of sensors from a simple numerical value to a more complete report including numerical value for the sensor output, information about the sensor's location, use, manufacture, and calibration information.