Contact Info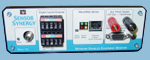 Announcing the Next Generation of NEEM Products


More Features at Lower Cost



Track Resource Utilization - Reduce Power Usage - Reduce Unplanned Downtime




Make Any Legacy or New Machine an "Internet Connected Machine"

Track Machine Activity

Machine availability

Production cycles per hour

Energy Consumed - Electricity kWh or Natural Gas Btu's/hr

Several other productivity & resource usage metrics



Receive "Out-of-Normal" Alert Emails & Text Messages



Track Variations in Temperature, Pressure, Humidity, Energy Use, Tank Level, and more.




Measure and Track Energy $'s Used/Batch, $'s/Day, $'s/shift



Monitor Key Parameters using Sensor Measurements





Now NEEM Solutions Available at Lower Costs with More Features



Prices Range from $1,000 - $2,000 ... Depending on Selected Sensor Package


Complete"Stand-Alone" Solution


Includes Internal Single Board Computer, Sensors, Electronic Interfaces, & More


Includes Extensive Software for Viewing Data


Other Software Tools to Download Data into Spreadsheets



Also Includes Software to Assist User's Setting Up Hardware



Enhanced Security


Easy Setup with Telephone Support if Needed


Choose "Send Data to the Web" or "Data Stays in Facility Only"


Compatible with Many Types of Sensors


Solution Kits for Many Common Manufacturing Applications


Complete Solution Including Sensors, All Electronics, Cables, Power Supply



Available in Sept. 2021



Sensor Synergy has been a pioneer in the Industrial Internet of Things

Long before there was an Internet of Things label, Sensor Synergy was building products and solving customer problems using the tools and techniques now referred to as the Industrial Internet of Things.
What does this mean to you? We have the experience and proven technology to rapidly enable Industrial Internet of Things - IIoT - solutions in your plant, on your equipment, or monitoring your processes.

Our Network Enabled Equipment Monitor (NEEM) and Watts Aware systems can provide you with valuable data on your ongoing operations and alert you when conditions exceed limits. Installation is simple and the cost is much lower than competitive technologies.

Watts Aware is a Complete Tool to Monitor Your Electrical Power Usage

Track your power usage in real time with Watts Aware

Turn-key solution includes all hardware and software components


Quantify main components of your electric bill. Reveal previously unseen electrical power usage


Easy 1-hour installation - sets up without power interruption


Rugged, wall-mountable construction for industrial and commercial environments



>> more information about Watts Aware...

>> more information about power monitoring technology...




Recent Accolades: American Foundry Society's prestigious
"Applied Research Award"

Sensor Synergy's NEEM technology was honored with the Society's "Applied Reseach Award" award at this year's 118th annual MetalCasting Congress event in Schaumburg, IL April 2014. The American Foundry Society recognized Sensor Synergy's AFS funded R&D project "Identifying, Implementing and Sustaining Energy Savings", with the "Applied Research Award". According to the AFS "The emphasis of this award is on practical research that directly addresses pressing technical problems faced by metalcasting facilities, the speed with which the research is transferred into shop floor applications and the collaborative role in developing and implementing technology"




More Accolades: "Best of Sensors Expo" Award

Sensor Synergy's NEEM-112 was honored with a "Best of Sensors Expo" award at this year's Sensors Expo event in Chicago. The editors of Sensors magazine and an external advisory board evaluate products on display at the annual Sensors Expo trade show each year to "honor new products with the best potential to change the future of sensor-enabled designs." Sensor Synergy's NEEM-112 product received an award this year for the "potential to change the way people work," "serving a real need" and being "highly distinctive from other product offerings."




Sensor Synergy's NEEM provides complete solutions to monitor remote equipment

Within 30 minutes, you can have live sensor data on the Web or intranet.

A complete stand-alone solution that is immediately operational out of the box...ideal for such applications as condition based maintenance and remote equipment state of health monitoring.


No on-site computers, expensive software, plug-ins or programming required


Custom OEM solutions: transform conventional sensors into networked smart sensors


Powerful development and interfacing tools enables a customized software environment


Multiple sensors can connect to one unit


Each unit stores data onboard for 1 year


Compact and comprehensive, the NEEM is shipped ready to receive, analyze and present sensor data in a a rugged 6.6" x 2.3" x 8.2" enclosure



Order today - use your internet browser to view your sensor data tomorrow




OEM solutions...

Inexpensive, customized, technology integrated into your product

Custom Sensor-to-Network solutions to transform conventional sensors into networked smart sensors.


Royalty-free, seamless integration with powerful development tools and interfacing options.


OEM designs can be developed to minimize per unit cost by including only application-driven, required features and eliminating all other unnecessary circuits.


Compatible with the most common analog sensors from thermocouples to strain gauges.